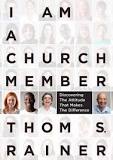 Author: Thom Rainer
Title: I am a Church Member: Discovering the Attitude that Makes the Difference
Published: B&H Publishing Group, 2013
Pages: 79
Is church membership even Biblical or necessary? If so, what does it require or look like in practice? These are the questions that make up the core focus of this brief and to the point book by Thom Rainer. Fresh, engaging, and friendly in style Rainer highlights the Biblical nature of church membership with particular reference in his first chapter to 1 Corinthians 12-14. While this book is very brief, it is very clear that Rainer is not writing as an armchair pastor or theologian. He has seen the hate that many professing Christians have for the church in their words and works. He has experienced the hypocrisy of fake or immature believers. He knows the grief and struggles pastors often go through in leading and caring for their churches. I am a Church Member  speaks to these issues and provides a useful handbook with Biblically practical wisdom that even a 10 year old can understand.
Rainer acknowledges "…many of us church members have lost the biblical understanding of what it means to be a part of the body of Christ." The picture is painted of a country club with perks and pleasures as part of its 'membership'. Often church members do view their own church membership in this way. "We join churches expecting others to serve us, to feed us, and to care for us…We don't like hypocrites in the church, but we fail to see our own hypocrisies." The  remainder of the book is spent driving home the point that "He [God] placed us in churches to serve, to care for others, to pray for leaders, to learn, to teach, to give, and, in some cases to die for the sake of the gospel." At the end of each chapter, very much as in Autopsy of a Deceased Church, Rainer asks the reader to make a pledge to prayerfully carry out the respponsibilities of membership and follows this with some study questions.
Rainer's passion and concern for Biblical church membership and healthy churches is evident. "Many churches are weak because we have members who have turned the meaning of membership upside down. It's time to get it right. It's time to become a church member as God intended. It's time to give instead of being entitled." Rainer sums up the wider social implications of this lack of health saying, "We may just discover that the reason our nation is in such bad shape is because our churches are so unhealthy. That lack of health is evident when nine out of ten churches are no longer reaching their communities." A sad reality indeed. It need not be so!
My verdict? This book is ideal to give to church members and would make a good supplemental resource for homegroups or small group Bible studies. Easy to read and yet, the gravity and wonderful nature of church membership is clearly sensed.